San Francisco, CA — Moi Corporation, developers of TwitCasting and one of the pioneers in communications-focused live streaming, announced today the immediate availability of their new 'Live' and 'Viewer' apps on iOS. For the first time in a livestreaming app, broadcasters can tilt, turn or even rotate their phones and TwitCasting's unique "dynamic rotation" feature will automatically reposition the video for viewers to maintain the broadcaster's original upright orientation. The apps incorporate a new design and provide a smooth transition between portrait and landscape mode while broadcasting. TwitCasting also offers more efficient data usage – only half of what is used by other popular live streaming apps – and robust, reliable broadcasting even in low bandwidth environments.
"Dynamic Rotation" automatically re-positions video for viewers even on Collabo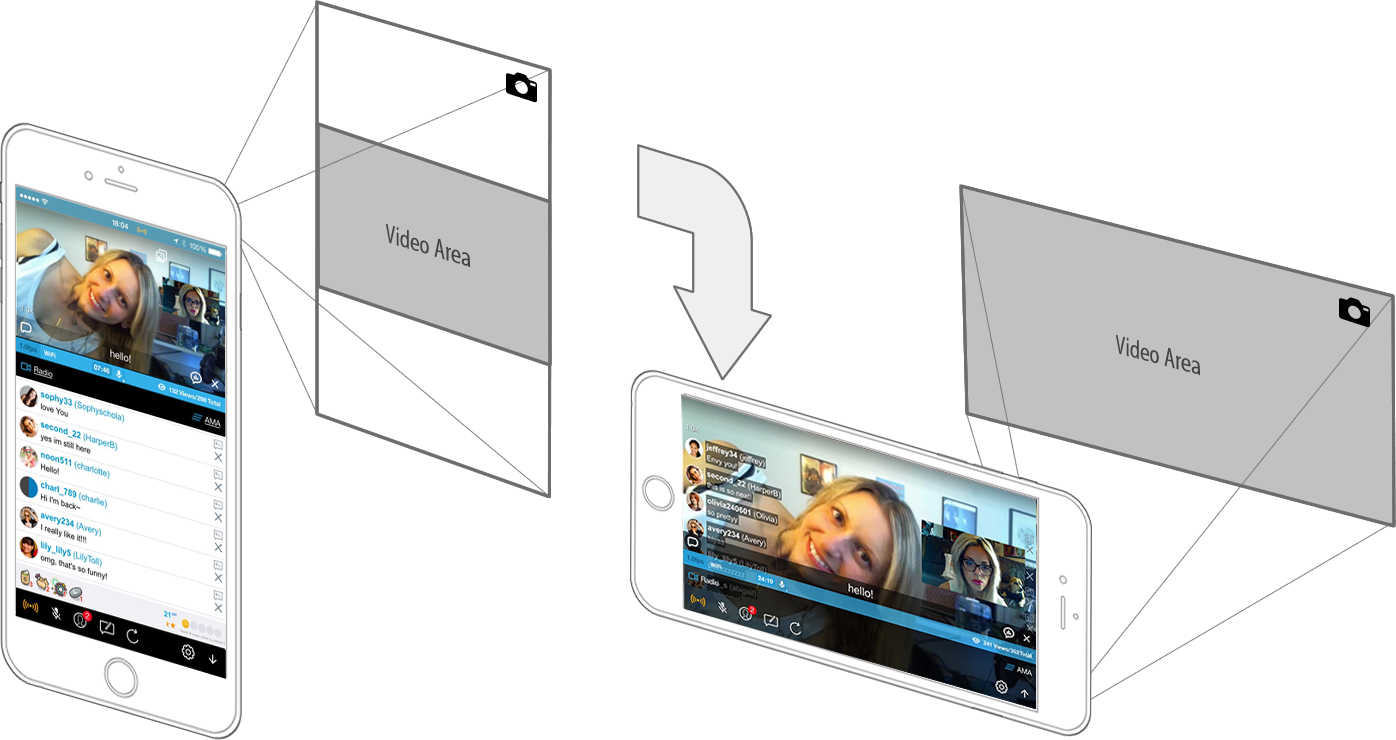 TwitCasting social live streaming apps are designed with a focus on communications and enabling broadcasters and their viewers to share, chat and connect seamlessly, regardless of the environment. Custom encoding enables the app to dynamically adjust to network strength and broadcast even in low bandwidth environments (as low as 88 kbps), where other live streaming apps require 500 kbps or more. TwitCasting also minimizes data usage; in a 4G environment, a thirty minute live stream on an iPhone6 (TwitCasting Standard streaming mode:150~300kbps) will use only 106MB, where the same length Periscope live stream consumes 190MB, almost double.
Integration with Twitter and Facebook provides the option of streaming live video and notifying fans and followers on either. The new design enables broadcasters and viewers to easily access additional TwitCasting features for a more enjoyable experience, including:
broadcasters can save their live streams with viewers' comments
multiple viewers (up to 5) can join a broadcaster in a single live stream using "Collabo" mode
viewers can follow the broadcasters they're watching on Facebook, Twitter and Instagram
broadcasters can even stream their Instagram photos to their viewers
Streaming Instagram photos while broadcasting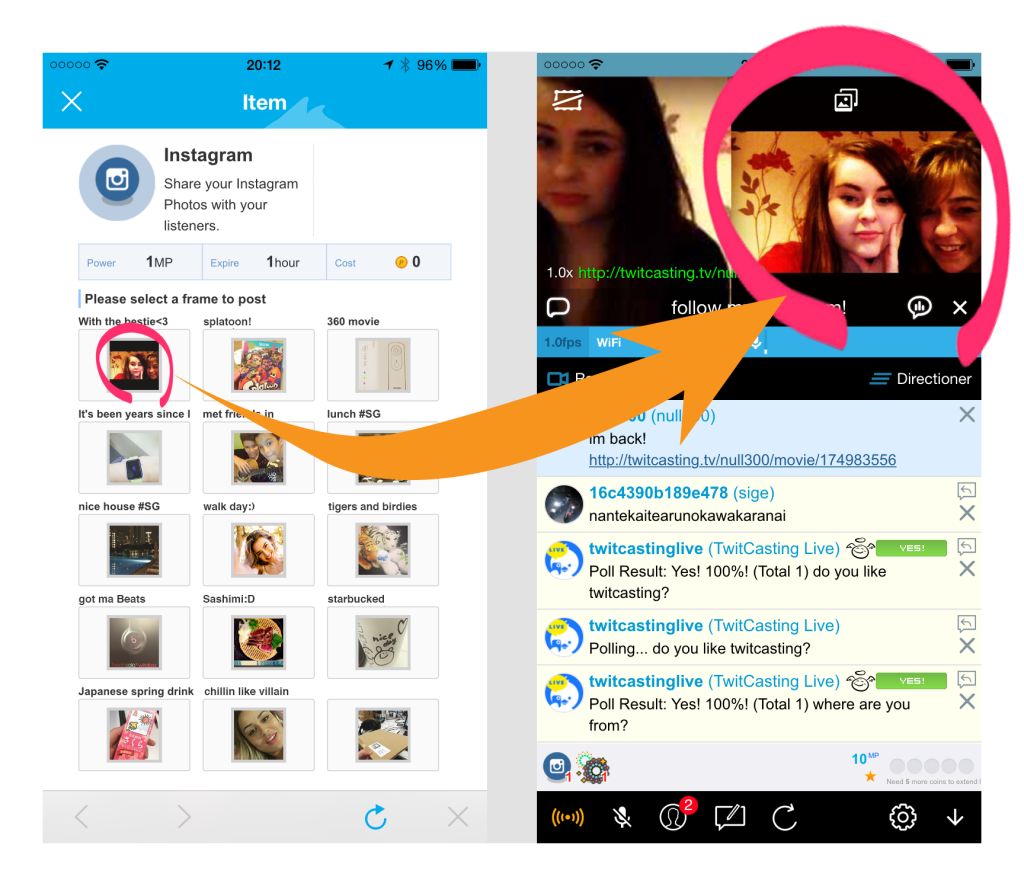 Yoski Akamatsu, CEO & founder of Moi Corporation, commented "After we unlocked the teenagers market in Japan, the community grew so quickly that it became a platform for celebrities like models and musicians to engage with their audiences. In 2014, 4 out of 5 Tokyo gubernatorial candidates used our app for their election campaign. Our user base has expanded from a niche to the masses in Japan. Outside of Japan, our app got traction in Brazil in 2013, and then spread across Latin America. We've been studying the US market, and re-designed our apps to respond to it. Our team is really focused on creating a great live streaming experience for our broadcasters and viewers here in the US, and for the rest of our 10MM+ user base worldwide."
Moi Corporation is "Connecting the World in Real-Time" with offices in San Francisco and headquarters in Tokyo, Japan. Moi is the fast growing startup company responsible for TwitCasting live video streaming on iOS, Android and on the web. The TwitCasting live streaming community has grown organically to more than 10MM registered users worldwide. Learn more at http://about.moi.st/en/.
Media Resources: Here
Contacts
Moi Corporation
Leah Etkind, Community Manager
Phone: (650)492-5048 Fax: (815)301-9687
Email: marketing@twitcasting.tv
Our Apps – App Store
Live:https://itunes.apple.com/us/app/TwitCasting-live-broadcast/id352756035?mt=8
Viewer:https://itunes.apple.com/us/app/TwitCasting-viewer-watch-free/id365235835
Our Apps – Google Play (will be updated in July)
Live:https://play.google.com/store/apps/details?id=sidefeed.TCLive
Viewer:https://play.google.com/store/apps/details?id=com.sidefeed.TCViewer