Moi Corporation raises $5M Series A to extend Twitcasting to U.S.
Published:June 27, 2014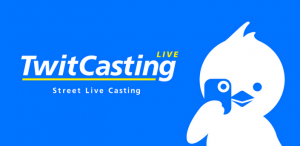 San Francisco, CA — Moi Corporation announced today that they have raised $5M in their Series A round of financing to extend the Twitcasting community, currently the largest livestreaming community in Japan, into the United States and Brazil. The new funding comes from Sinar Mas Group (Indonesia) with seed investor East Ventures (Japan) participating. They commented "Our investment in Twitcasting signifies our continued interest in Technology and Telecommunications and more importantly, our belief in the team's vision of a smart and innovative social broadcasting platform."
Twitcasting was designed for broadcasting and real-time, open communications. It's unique in its ability to livestream in bad environments by dynamically adjusting to network quality and reducing its bandwidth requirements. Broadcasters can livestream and record without worrying about network quality issues and focus on building a following. Viewers can communicate and share with broadcasters through comments, send gifts and even join the broadcast with Collabo, a new feature which enables as many as 4 users to broadcast together on a single mobile display. Twitcasting's performance, simplicity and ease of use has helped to drive strong mobile growth, which now makes up 95% of the user base.
Founder & CEO Yosuke Akamatsu and a small team of eight launched Twitcasting in 2010. It took 24 months to gain the first million users; then the network effect kicked in and adoption accelerated. By late 2013, Twitcasting had became more popular than Facebook among Japanese teenagers and college students, and the user base had mushroomed to more than 5 million users. Today, the user base exceeds 6.5 million users with 15,000 new sign-ups each day – and the team is still less than 10 people. Yosuke Akamatsu, founder and CEO, said "We have been focusing on the Asian market so far and gained traction with users from the younger generation. This investment will help us grow as a video communication platform with a new sense of the mobile-to-mobile connectivity all around the world."
That user base is young, with 80% of the users under 24 years old. While many of those users simply enjoy sharing their lives with friends and followers, other users have built careers with livestreaming. One user, @mmkemio started Twitcasting to realize his dream of becoming an entertainer. After a year of livestreaming, he had 374,000 followers and had appeared on several TV shows. In Brazil, Grammy-award winning singer Ivete Sangalo was an early user of Twitcasting, along with Twitter, to connect to her fans. Most recently, Midia Ninja, an independent collective of citizen journalists, adopted Twitcasting to broadcast their version of events from the frontline of Brazilian protests. At one point they had more than 180,000 viewers watching their livestream.
Sinar Mas Group operates in different sectors such as Pulp and Paper, Real Estate, Financial Services, Agribusiness, Telecommunication, Energy and infrastructure. The businesses are listed in the Indonesian and Singapore stock exchanges.
East Ventures is an early stage fund headquartered in Japan, focusing on consumer web and mobile startups in Japan, Indonesia and Singapore. This fund is led by Board members with successful backgrounds, including Batara Eto and Taiga Matsuyama.
Moi Corporation is the fast growing startup company headquartered in Tokyo, Japan, operating the largest livestreaming community called TwitCasting that has grown to more than 6.5 million registered users without any advertising. Learn more at http://about.moi.st/en/
Contacts
Moi Corporation
Yoski Akamatsu
Phone: (650)492-5048
Email: marketing@moi.st
Fax: (815)301-9687
Media Resources
Here