TwitCasting featured on TechCrunch
Japan's Moi Corporation Raises $5M For Mobile Live Streaming App TwitCasting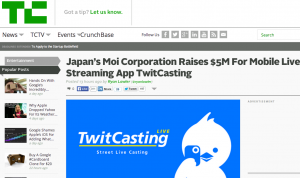 Moi Corporation, which is the company behind Japanese mobile live stream app TwitCasting, just raised $5 million to extend its reach outside of its home market and to grow around the world. The company raised that funding from Indonesia's Sinar Mas Group leading and Japanese seed investor East Ventures also participating.

TwitCasting actually has two different apps — one for broadcast and one for viewing — and allows both broadcasters and viewers alike to chat with one another. While it was originally built in 2010, the app has been gathering momentum over time: it took two years to reach its first million users, but it has grown to 6.5 million users over the last year or so.

The key to its growth, according to founder and CEO Yosuke Akamatsu, is a live-streaming technology that allows for quick and easy broadcasting, regardless of network connectivity. The stream adjusts for changes in network quality, allowing users to broadcast even when there's not a ton of bandwidth.

Japan's Moi Corporation Raises $5M For Mobile Live Streaming App TwitCasting